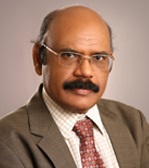 Dr. Lokeswara Rao Sajja
Dear Friends,
This year, we hope to exclusively conduct our CMEs and the annual meeting in the in-person format. Following a successful 69th Annual Meeting, IACTS SCORE 2023 held on the first weekend of March was excellent with many interactive sessions between the faculty and residents. Young surgeons and residents have yet another excellent opportunity coming up at the Technocollege CME to be held in the last week of April in Ahmedabad. It promises to be an enriching conclave with a back-to-school day and two days of all-around learning.
I would like to highlight the importance of our IACTS Database. During IACTSCON 2023, National Database Chairperson Dr. K.S. Iyer presented preliminary analytics that proved to be interesting and something all of us Indian surgeons can look forward to using in our research and presentations. I urge all institutions actively performing cardiac surgical procedures to enroll and start sharing their data. The National Database Committee, which monitors the overall activity of the Database, is happy to help facilitate the training and onboarding of new centres.
I encourage you to communicate any suggestions to take our Association forward to the IACTS Secretariat.
I wish everyone good health, happiness, and success in all your endeavours.
Regards,
Lokeswara Rao Sajja
54th President IACTS