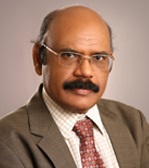 Dr. Lokeswara Rao Sajja
Dear Friends,
As the Association completes its 69th annual conference, I embark on a new journey as the President of the Association. I seek your cooperation and participation in taking IACTS to a new academic level. 
I would like to congratulate the organizing committee consisting of Organizing Chairman Dr. S. Muralidharan, Organizing Secretary Dr. S. Thiagarajamurthy, and Organizing Treasurer Dr. S. Vijay for a well-conducted conference. We had several good lectures and discussions in pediatric, adult, thoracic and MICS. As always, we have had wonderful support from our national faculty members as well as invited international speakers. But it was disappointing to see lukewarm response by residents to free papers and posters. I thank the industry sponsors for their unwavering support for our Association's activities.
While the Scientific Program was exhaustive, we hope that, in the future, mid-career and early-surgeons will take more initiative and lead original papers and share their research findings and clinical experience. We must upgrade the quality of our academic work. I urge all the residents to actively participate in CMEs and not miss the IACTS SCORE scheduled for March 4th & 5th at Bengaluru. 
I welcome Junior Vice President Dr. Devagourou Velayoudam and Dr. Prasanna Simha Mohan Rao and Dr. Debasis Das as Executive Committee Members. Congratulations to Organising Secretary Dr. Bijoy Kutty for winning the venue bid for IACTSCON 2026 to be held at the Jio Convention Center, Mumbai.
The Executive Committee has been discussing plenty of new initiatives to expand our fraternity. I am looking forward to working with our indefatigable and dynamic Secretary Dr. C.S. Hiremath to take our Association forward. 
Once again, I thank the general body for reposing faith in me to lead our Association in 2023.
Regards,
Lokeswara Rao Sajja
54th President IACTS