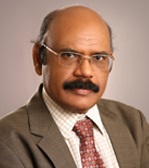 Dr. Lokeswara Rao Sajja
Dear Members and Friends of IACTS,
I hope this message finds you in good health and high spirits. As the President of the Indian Association of Cardiovascular and Thoracic Surgeons (IACTS), I am delighted to share some exciting updates with you.
First and foremost, I am thrilled to announce that in the month of October, IACTS will be hosting a Cardiac Continuing Medical Education (CME) event in the vibrant city of Madurai. Our CMEs have always been instrumental in fostering knowledge exchange and professional growth, and this promises to be another enriching experience. Stay tuned for more details, and we look forward to your active participation.
Additionally, in the spirit of extending our reach and contributing to the well-being of our communities, our dedicated Outreach team, under the leadership of Dr. Manoj Durairaj, organized a nationwide awareness campaign on Cardio-Pulmonary Resuscitation (CPR). This initiative reflects our commitment to not only advancing our field but also ensuring that life-saving knowledge and skills are accessible to all. We believe that every individual should have the opportunity to learn CPR, a skill that can make a crucial difference in emergencies.
Please keep an eye on our website and communication channels for updates on both these initiatives. We encourage you to actively participate, support, and share these endeavors with your colleagues and networks. Together, we can make a significant impact on cardiac care and community health.
As we move forward, IACTS remains dedicated to our mission of excellence in cardiovascular and thoracic surgery. Your continued support and engagement are invaluable in achieving this mission.
Thank you for being a part of the IACTS family, and I look forward to our collective efforts in shaping a healthier future.
Regards,
Lokeswara Rao Sajja
54th President IACTS