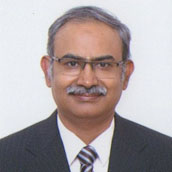 Dr. C.S. Hiremath
Dear Colleagues,
I warmly welcome our new president Dr. Lokeswara Rao Sajja, the 54th President of our Association. I am sure we will see the impetus towards scientific interests increase further and galvanise medical students into joining the cardiac community. 
I trust delegates had an insightful and enriching meeting at Coimbatore. Many congratulations, to the Organising Secretary of IACTSCON 2023 Dr. S. Thiagarajamurthy and his entire team who put together a veritable scientific feast and realised late Dr. Sundar Ramanathan's vision of hosting the Association's annual conference for the first time at Coimbatore. 
This year, an election was held to appoint two members and a junior vice-president to the Executive Committee of the Association and select a venue for IACTSCON 2026. Many members remarked that voting couldn't have been any simpler or easier. I am happy to have received such positive feedback for the election process. A fair election was seamlessly conducted as a result of this simple yet fail-proof system. I congratulate Dr. Devagourou Velayoudam, President-elect for 2025, and the two Executive Members Dr. Prasanna Simha Mohan Rao and Dr. Debasis Das, for winning the mandate from the eligible general body. The Association has inducted four honorary overseas fellows into its fold. These surgeons practising abroad have contributed significantly to cardiovascular-thoracic surgery and are masters in their chosen subspecialties. 
I hope the residents can keep up the learning momentum. IACTS SCORE, designed exclusively for exam-taking residents of DNB and MCh certifications, will be held during the first weekend of March. Registrations are underway. Please use this link to register yourself for this hybrid event. 
I look forward to hosting a robust number of residents and making SCORE 2023 a success for yet another year. 
Regards,
Dr. C.S. Hiremath
Secretary
Indian Association of Cardiovascular-Thoracic Surgeons