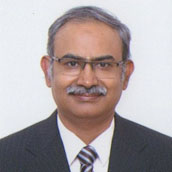 Dr. C.S. Hiremath
Dear colleagues and friends, The COVID-19 pandemic has brought about much pain and suffering in the lives of those afflicted, their dear ones and those involved in alleviating the sufferings of the distressed. The sudden halt in life that resulted from this global health crisis continues to be seen well over fifteen months in the form an inertia that clearly allows us to see the fissures in our society.
As we continue to collectively brave the storm, we are encountered with numerous challenges within our own domains as we seek to lessen the sufferings of the world. Resuming surgical work when the natural history and etiology of the disease was unclear was a daring act of conscience, for the conditions we are accustomed to working on remain intrinsic to the present scenario. The suffering of patients with acquired and structural defects remained masked behind the wailing of those millions of souls who fought in this battle. Today, we are equipping ourselves to deal with crises on multiple fronts while ensuring that those involved in caring for the sick continue to do their best in this daunting task of maintaining emotional and work balance alongside mitigating the looming crisis at hand.
Our prayers go out to those "martyrs" who lost their lives in this battle as they put their patients before their own selves, which is reflective of the true meaning of caring for the sick. We salute the indomitable courage and persistence of all those who are involved in filling the crevices left behind by this crisis. As we all are braving this storm and doing the maximum we can with the ardent hope for a strobe of light, we must ensure that we collectively cross each phase while ensuring that the last person in the line has crossed the crisis, just as the first person does not enter the vicious cycle brought about by this disease.
This issue is being brought out in the midst of a secondwave of the pandemic in our country. The future remains uncertain, but the task at hand seems formidable as everto defend until the last man stands. This is a potpourri of some advances in our Association through a fervent effort to keep the progress of science, learning and exchange of ideas consistent despite the storm we are currently rowing in.
As we set out in this task bestowed upon us, we must take every member of the society with us and work fervently in the herculean task of rebuilding the world that remains ahead of us. We shall bear through the storm and set shore for a new normal, nevertheless new-for change is the changeless law of the universe.
I seek your kind support and involvement in keeping up the camaraderie and spirits of our entire fraternity in carrying out our duties and sustaining our spirits to win this global health crisis.
With warm regards,
Dr. C.S. Hiremath  M.Ch
Secretary
Indian Association of Cardiovascular-Thoracic Surgeons