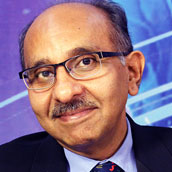 Dr. Om Prakash Yadava
Editor-in-Chief
Indian Journal of Thoracic & Cardiovascular Surgery
Contact Information:
CEO & Chief Cardiac Surgeon
National Heart Institute 49-50, Community Centre, East of Kailash, New Delhi-110 065, India 
Email: editor@iacts.org
---
Editor's Musings
Friends,
Its time yet again for a Pow Wow.
Thanks for all your congratulatory messages on IJTC being indexed by PubMed Central. Sure enough they warm our cockles and inspire us to go for more. Equally, felicitations are due to all of you – the reviewers, authors and raison d'etre of our very existence, our readers.
Lest I fail in my duty, I appreciate the dedication of our Associate Editors and can't thank enough the Editorial Board members, for guiding us like a beacon. Last post is reserved for salutations to the esteemed former Editors, for laying a strong foundation, for us to carry forward.
Darting a little askew, our rejection rate of the manuscripts has gone up. Its not that all the papers that were rejected were of a poor quality, to the very contrary, a number of them had scientific material of substance, but unfortunately had not been packaged well. Hence, I thought of communicating with you.
The common causes of rejection of manuscripts in our experience have been:
1. Not in scope of the journal – probably not relevant to this readership.
2. Not conforming to the norms of IJTC – Please read 'Instructions to the Authors' very carefully. The manuscript should be structured on IMRaD (Introduction, Methods, Results, Discussion) format and references must follow Vancouver style. All details are available on our manuscript submission portal www.editorialmanager.com/ijtc.
3. Poor Language – Commonest mistake here is non-uniformity of tense (e.g.writing one line in present and another in past tense). Others are using complex sentences, flowery language and euphemisms, which may be appreciated in English literature, but not in scientific writing. One should construct short sentences and convey one idea per sentence. Always try and keep the verb and subject together.
4. Grammatical mistakes – Incorrect use of upper and lower case in text, comma & full stop.
5. Poor methodology – The primary and secondary end points, inclusion and exclusion criteria, and aims and objectives of the study are either not pre-specified or not defined with clarity. In fact, at times they may be missing altogether ! 
6. Statistical analysis inadequate – The logic behind the calculation of the sample size is not brought out clearly and the power of the study is not worked with due diligence so that the study may be underpowered in reference to a specific end-point. Even the statistical tools used may be inappropriate.
7. Review of literature archaic – Authors should do an exhaustive literature search and present contemporary data.
8. Improper use of acronyms – At first usage, full expansion of common and oft repeated terms should be used and paraphrased by an acronym. Thereafter only the acronym should be used and not the full form.
9. Citation of references – They should be in square brackets and always in ascending order i.e. in order of their appearance in text.
10. Limitations – Not listed out in details.
11. Conclusions – Not borne out of the study.
Always try to bring out what's new in the manuscript that it adds to the existing literature. A 'Take Home' message, if worthy, increases the chances of the manuscript getting published.
Wishing you an enhancing and rewarding publishing experience with IJTC.
Dr. O. P Yadava DNB
Editor - in - Chief
Indian Journal of Thoracic and Cardiovascular Surgery
The Official Publication of the Indian Association of Cardiovascular-Thoracic Surgeons